Welcome to Sweet n' Sassi's stop on
"The Devil Made Me Do It" book tour.
This tour is brought to you by Innovative Book Tours.
BLURB:
Don't tempt me.... Erin wants her husband to rip her clothes off... literally. Does she dare provoke him? Natalie wants to make love outdoors. Can she convince her shy husband? Melissa wants the bad boy she just met in a bar. Should she or shouldn't she? And Heather watches from a secret room....
These women and others like them know what they want in bed. But sometimes they have to be a little extra bold to get it. Watch them bring their naughtiest fantasies to life in some very interesting ways.
It wasn't my idea... the devil made me do it.


About the Author, Amelia James:
Amelia James started reading steamy romance novels in junior high, but her mom took them away from her, so she started daydreaming instead. After she got married, she wrote some of her naughtier daydreams down and sent them to Playgirl magazine. Two of them got published. She kept daydreaming and writing stories until her dirty stories turned into trashy books.
She lives in Colorado, but she'll always be a loyal Wisconsin Cheesehead. When she's not lusting after her next bad boy hero, she looks for inspiration in sci-fi and action movies, football players, bloodsucking lawyers, muscle cars, and kick-butt chicks.
Learn more about Amelia and her books on:
Purchase "The Devil Made Me Do It" on:
Review:
"The Devil Made Me Do It" is a collection of short stories filled with emotions and a touch of romance that will heat you up in no time. Amelia pens her characters believable with realistic couples that steam up the pages. A totally hot page turner that is a must read for all mature adult readers.
I give "The Devil Made Me Do It" a 5 star rating.
To follow the full tour, click on the banner below: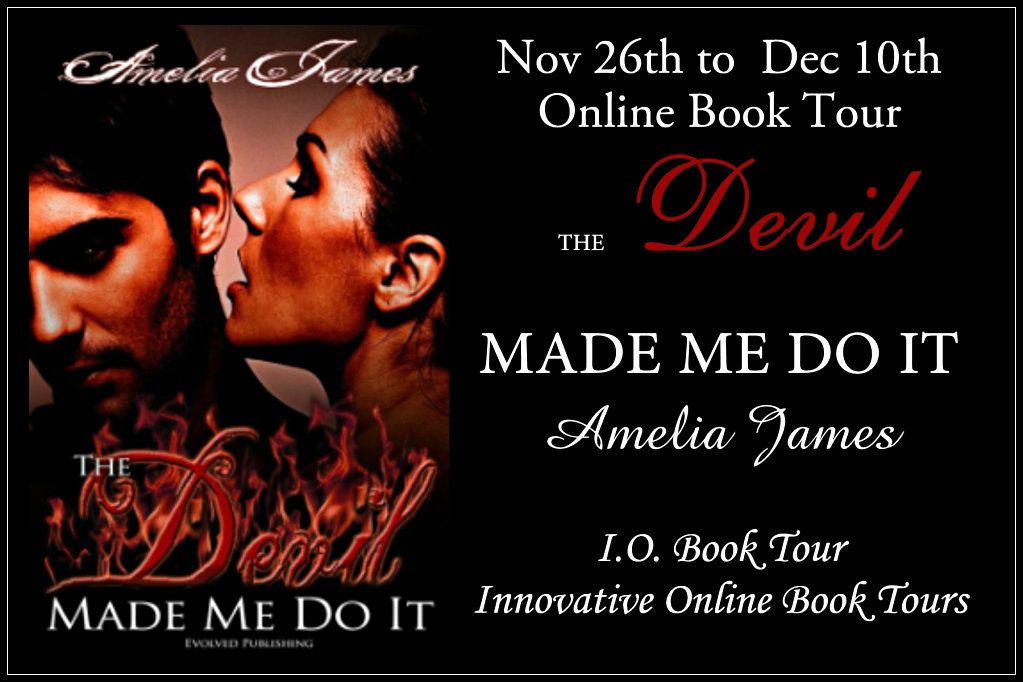 * Disclosure of Material Connection: I am a member of Innovative Online Book Tours and a copy of this book was provided to me by the author. Although payment may have been received by Innovative Online Book Tours, no payment was received by me in exchange for this review. There was no obligation to write a positive review. All opinions expressed are entirely my own and may not necessarily agree with those of the author, publisher, publicist, or readers of this review. This disclosure is in accordance with the Federal Trade Commission's 16 CFR, Part 255, Guides Concerning Use of Endorsements and Testimonials in Advertising.