Welcome to Sweet n' Sassi's stop on the
"Choices" book tour.
This tour is brought to you by Innovative Book Tours.
BLURB:
Anna is broke. Really broke. Credit cards maxed out. Store cards, too. She can't make her repayments and there's nowhere to turn.
Educated, intelligent, and—until recently—upwardly mobile, Anna is forced to make a choice. Sink or swim. And swimming means finding a part-time job to complement her full-time career. One that would pay enough to get her head above water. Except that part-time jobs don't pay. Usually.
Drawn into the sordid world of private escorts, Anna discovers there is little she won't do for money, lots and lots of money. She even starts to enjoy the sex. Until she meets an unusually seductive client who introduces her to the world of Dominance and submission. Then everything changes.


About the Author, Galia Ryan:
Convent educated from the age of four, Galia Ryan was brought up not to question. Perhaps because of this, she has always been fascinated by all things esoteric and 'outside the square.' Originally from Sussex, England and now living in New Zealand with her soul-mate husband and grown-up family, Galia tries to find time between her passions for writing and reading for her other love—travel. There is always a growing list of must-see places. CHOICES is her first novel, and the first of a trilogy. SECRETS and LIES will be published by Fanny Press in 2013.
Learn more about Galia and her books on:
Purchase "Choices" on:
Amazon
Review:
"Choices" is the first in "The Luxuria Trilogy" trilogy by Galia. I love how she pens "Choices" in a plot filled with intense sexual experiences that some of us only dream of. With characters that are strong enough, you will find yourself hooked and turning the pages. I can't wait for the next book to come out and see what develops.
I give "Choices" a 5 star rating.
Giveaway:
Digital copy - International
Print Copy - USA
a Rafflecopter giveaway
To follow the full tour, click on the banner below: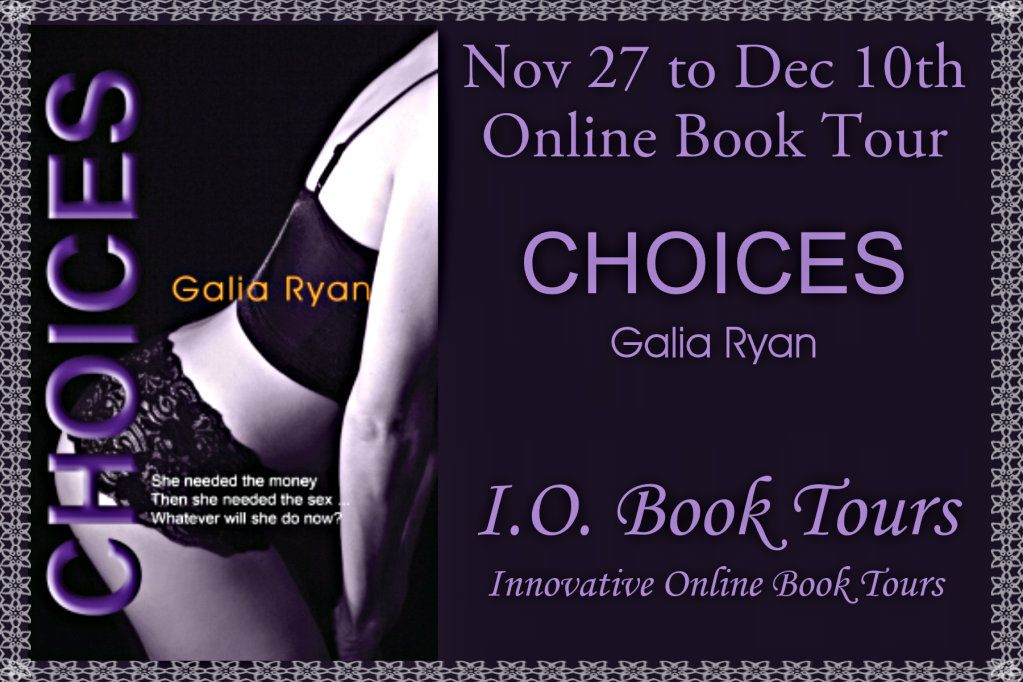 * Disclosure of Material Connection: I am a member of Innovative Online Book Tours and a copy of this book was provided to me by the author. Although payment may have been received by Innovative Online Book Tours, no payment was received by me in exchange for this review. There was no obligation to write a positive review. All opinions expressed are entirely my own and may not necessarily agree with those of the author, publisher, publicist, or readers of this review. My Cozie Corner is not responsible for sponsor prize shipment. This disclosure is in accordance with the Federal Trade Commission's 16 CFR, Part 255, Guides Concerning Use of Endorsements and Testimonials in Advertising.