Welcome to Sweet n' Sassi's stop on
"The Royal Flush" book tour.
This tour is brought to you by Innovative Book Tours.
BLURB:
The Royal Flush is the third novel in the edgy, action-packed, sexually-charged, Knights of the Darkness Chronicles.
In the third installment of this tale, the hunt is on! The coven, Pack and Pride must join forces to stop a group of big game hunters by any means necessary! Hold on to your seat as the Knights take you on yet another wild ride that will not let you go until the last word is read and the book is closed!




About the Author, D.N. Simmons:
D. N. Simmons lives in Chicago IL., with a rambunctious German Shepherd that's too big for his own good and mischievous kitten that she affectionately calls "Itty-bitty". Her hobbies include rollerblading, billiards, bowling, reading, watching television and going to the movies. She has been nominated at Love Romances and More, winning honorable mention for best paranormal book of 2006. She has won "Author of the Month" at Warrior of Words. She was voted "New Voice of Today" at Romance Reviews and "Rising Star" at Love Romance and More.
To learn more, and have the opportunity to speak with the author personally, please visit the official website and forum at w
www.dnsimmons.com
. D.N. is always interesting in meeting new and wonderful people.
Learn more about D.N. Simmons on:
Purchase "The Royal Flush" on:
Review:
D.N. Simmons pens "The Royal Flush" in a plot filled with action, mystery, steamy hot sex and some really good twists and turns that I didn't see coming. In this 3rd book, I saw good character development and much better chemistry. A must read and one that you will find hard to put down.
I give "The Royal Flush" a 5 star rating.
To follow the full tour, click on the banner below: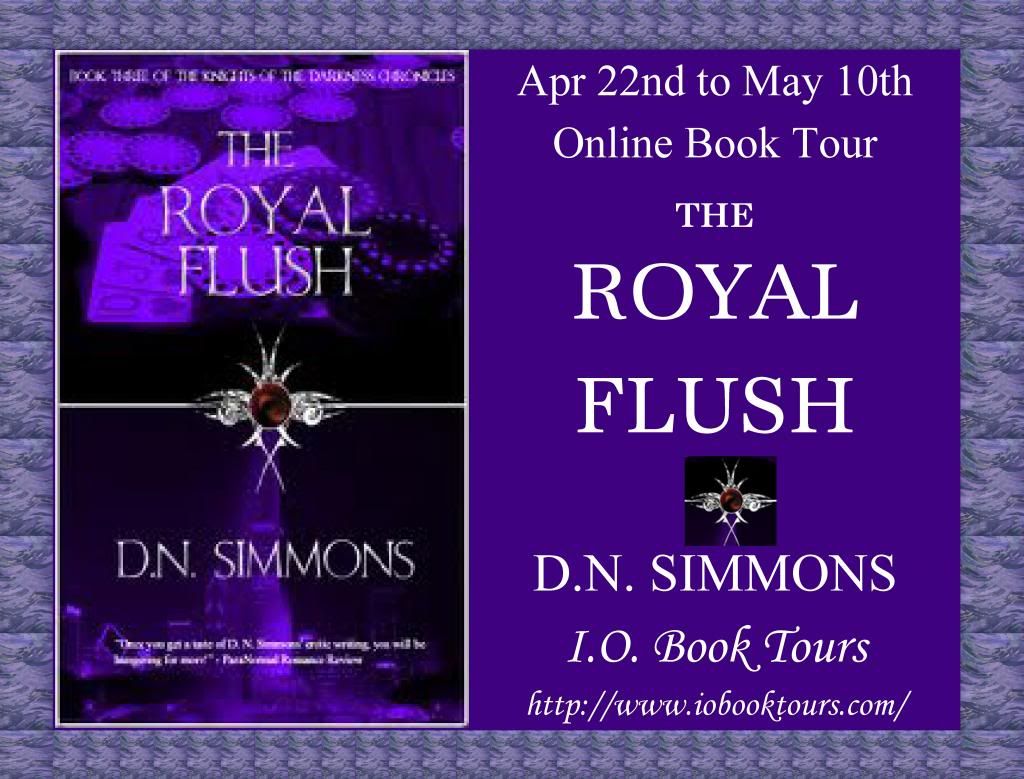 * Disclosure of Material Connection: I am a member of Innovative Book Tours and a copy of this book was provided to me by the author. Although payment may have been received by Innovative Book Tours, no payment was received by me in exchange for this review. There was no obligation to write a positive review. All opinions expressed are entirely my own and may not necessarily agree with those of the author, publisher, publicist, or readers of this review. This disclosure is in accordance with the Federal Trade Commission's 16 CFR, Part 255, Guides Concerning Use of Endorsements and Testimonials in Advertising.